"Semalam, kita semua digemparkan dengan berita perginya seorang mujahid dakwah yang begitu kita segani. Yang bakti dan kecintaan beliau kepada Islam dan ummat ini tidak dapat kita sangkal lagi.
Mungkin ada yang belum mengenali beliau. Mari Kak Iman kongsikan sedikit siapa sebenarnya Dr. Mohamed Morsi ini. Yang perginya ditangisi ramai ummat muslim. 
(credit image: from Tempo.com)
Beliau adalah Presiden pertama yang memenangi pilihanraya yang adil dan demokratik sejurus revolusi rakyat dalam babak yang disebut sebagai 'Musim Salju Arab' lewat 2011 menumbangkan autokrat Hosni Mubarak. (Petikan ucapan Dr Anwar Ibrahim)
Beliau menjadi Presiden Mesir ke-5 melalui pilihan raya presiden secara demokrasi pada 30 Jun 2012. Namun, kekuasaan beliau hanya berlangsung setahun kerana dihentikan oleh Jeneral Abdul Fattah as-Sisi, melalui kudeta pada 3 Julai 2013. Setelah beliau dijatuhkan, Jeneral as-Sisi mengangkat presiden sementara dan menahan beliau dan pegawai-pegawai yang berhampiran dengan beliau di dalam penjara.
Demikianlah serba sedikit mengenai siapa Dr Morsi. Seorang yang hebat jati diri dan keimanan. Seorang hafiz quran dan pakar nuklear (teknokrat kejuruteraan dengan PhD dari University of Southern California,  Amerika, serta berpengalaman diiktiraf NASA,). Tetapi tipu daya dan kelicikan politik lawan telah menjatuhkan beliau.
Selama hampir 6 tahun beliau berada di dalam penjara, mendapat seksaan fizikal dan mental, larangan dilawat, kurungan seorang diri, hak perubatan yang tidak dipenuhi. Ia merupakan perlakuan yang sangat tidak berperikemanusiaan.
Namun Allah berikan syahid bukan di kamar penjara, bukan di ruang penyiksaan, bukan di tempat tersembunyi yang jauh dari pengamatan manusia, tapi Allah berikan syahid di medan laga, di tengah persidangan, 25 minit setelah menyampaikan kalimat singkat, terang benderang jatuh tersungkur di hadapan mata dunia.
Antara isi-isi penting di dalam ucapan akhir beliau untuk sama-sama kita renungi:
1. Kalian menuduh saya mengintip untuk kepentingan Hamas, tetapi sekarang kalian bermuamalat dengan gerakan Hamas.
(credit image:  The New York New Times)
2. Kalian menuduh saya terlibat serangan dan kekacauan di Sinai (sewaktu pemerintahan Morsi) dan kalian boleh saksikan sekarang kekacauan masih berlaku di Sinai sedang saya berada dalam penjara.
3. Kalian menuduh saya terlibat dengan kekacauan dalam negara Mesir, kalian boleh saksikan sekarang pengeboman masjid, gereja dan usaha menghalau penduduk dari kampung masih berlaku.
4. Kalian menyingkirkan saya tetapi tidak membebaskan saya bahkan setiap hari saya diseksa dalam penjara sedang kalian semua buat tidak tahu apa yang berlaku. Kamu ingin membunuh saya dengan pelbagai cara. Akan tetapi kalian cuba meredakan keadaan setelah melihat reaksi sekeliling dengan apa yang berlaku.
5. Tiada siapapun tahu bila ajal seseorang melainkan Allah, aku tidak katakan melainkan "Hasbunallah wanikmal wakil" atas setiap orang zalim, pengkhianat dan perampas kuasa.
6. Adapun saya amat yakin saya akan bertemu Allah dengan sabar atas yang berlaku dan yakin saya akan bertemu para penjenayah pada hari Kiamat.
7. Adapun mesej saya kepada isteri dan anak-anak, Allah menjadi saksi saya sayang kalian dengan sayang yang teramat. Hanya Allah sahaja yang tahu. Betapa saya menderita hidup dalam penjara melainkan saya amat memikirkan hal kalian siang dan malam. Saya tidak pasti bila kita akan berjumpa kemungkinan di dalam syurga. Kami mengadu kepada Allah atas perbuatan orang yang zalim.
8. Sesungguhnya saya berucap kepada sekalian rakyat Mesir, berulang kali kepada kalian, bahawa kalian mampu mengubah nasib. Wahai para pemuda! Jangan kalian sia siakan harapan ibu-ibu kamu. Jangan sia siakan saudara saudara kamu yang diazalimi. Kerana kezaliman tidak akan kekal. Kepada kudeta, pasti juga akan mendatangi mereka melainkan satu hari yang akan berakhir kejahatan mereka kerana hanya ALLAH yang kekal.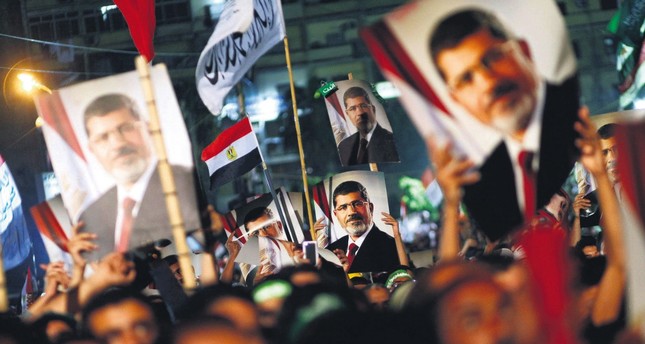 9. Sepanjang setahun pemerintahan saya, berlaku campur tangan asing dari sesetengah negara, mereka membeli orang-orang upahan untuk menjahamkan Mesir. Dan sekarang kalian boleh saksikan peristiwa demi peristiwa yang menjahanamkan Mesir, rakyat tidak akan tenang melainkan ranapnya penzalim dan kembalinya hak orang yang dizalimi.
10. Inilah point terakhir yang diucapkan oleh Dr. Morsi sebelum rebah. TV Mesir melaporkan berita tidak sepertimana laporan TV lain. Hanya menyiarkan Dr. Morsi berkata "Saya hanya menanti detik bertemu Allah", "Celaka dari Hakim langit kepada Hakim di bumi" dengan tidak menyiarkan siapa di hadapannya, bagaimana Dr. Morsi mengangkat jari telunjuk dan rebah di lantai.
 (
Sumber & Terjemahan daripada: ibnulkarim)
Demikianlah kata-kata terakhir sebelum beliau bergi bertemu Tuhannya.
Ada banyak perkara yang Kak Iman belajar dr tokoh as-syahid ini. Kak Iman nak kongsikan empat point utama.
1. Setia dengan Kebenaran
Apa jua cabaran yang beliau hadapi, dikhianati, diumpan dengan keduniaan, beliau tetap tidak berganjak dan tetap bertahan menegakkan kebenaran.
Begitulah kita seharusnya. Kebenaran boleh berada di mana-mana pihak. Boleh jadi dari pihak kita atau pihak lawan. Ketika kita bertemu dengan kebenaran lewat dari ilmu yang kita ada atau tokoh yang kita hormati, setia lah dengan kebenaran tersebut. Ketika tokoh yang kita segani itu tidak lagi berpegang dengan yang benar, kita harus cukup berani meninggalkannya dan mempertahankan yang benar.
 2. 

Tegas dengan perjuangan
Di awal pemerintahan beliau, kita dapat melihat usaha beliau dalam membersihkan pentadbiran daripada saki-baki pegawai yang korup sehingga memecat beberapa pegawai bagi mereformasikan angkatan tentera Mesir, inisiatif beliau dalam membangunkan ekonomi Mesir dan beliau juga lantang dan tegas dengan prinsip dan usaha pembebasan Palestin.
Walaupun ada yang menuduh beliau tergesa-gesa dalam bertindak dan sebagainya tetapi beliau tetap tegas dalam memastikan misi dan amanah kepimpinan beliau dijalankan sebaiknya
3. Yakin dengan Allah
Membaca kata-kata terakhirnya sahaja, kita boleh merasakan bahawa kerana keyakinan (keimanan) yang tinggilah menyebabkan beliau bertahan sehingga ke akhir hayat beliau. Beliau meyakini bahawa Allah lah yang berhak menghakimi beliau dan akan memelihara keluarganya.
4. Intim dengan al-Quran
Ketika dihalang untuk Al-Quran masuk ke sel penjaranya supaya beliau tidak dapat membacanya. Beliau berkata, "Tidakkah kalian tahu bahawa aku telah menghafalnya sejak 30 tahun yang lepas, aku memohon Al-Quran hanya kerana aku rindu untuk memegangnya."
Benarlah kata hukama'

 

كونوا عبادا قبل ان تكونوا قوادا لأن من احسن العبادة ستصل إلى أحسن القيادة

 

Jadilah kamu abid sebelum kamu menjadi pimpinan, kerana daripada ibadah yg bagus akan menjadikan kamu pimpinan yg bagus."
Inilah azam dan janji kami. Untuk mencontohi dan menyambung perjuangmu.
Semoga semangat perjuangan Morsi mengalir pada jiwa orang Mukmin yang sentiasa tegar melawan kemungkaran sehingga saat kematiannya. Nama Morsi akan terus harum dan kekal dalam sejarah walaupun dibenci musuh. Berehat dengan tenang engkau di sana. Kami menjadi saksi atas segala pengorbanan dan kebaikanmu di dunia ini.
Jika berminat untuk mengetahui perjuangan As-syahid Presiden Mursi, boleh dapatkan di Iman Shoppe Bookstore, Serdang. 
Sekian dulu untuk kali ini.